Waterfront Weddings
We offer a waterfront weddings package deal!
Brides and Wedding Planners:
Your Venue is Free When You Hold Your Wedding And/Or Reception At River Neuse Suites!
Dear Prospective Brides and Wedding Planners,
We understand that the cost of a waterfront wedding can be overwhelming in today's economy. In response to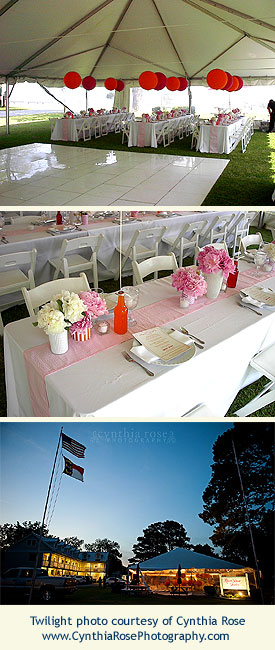 that, We have created a wedding concept that allows our brides to reserve a beautiful waterfront wedding and/or reception location that could be absolutely free!
How can we do that? Our total fee is based on full occupancy for our 14 room hotel for two nights. Book your wedding and/or reception with River Neuse Suites and you get unlimited use of our romantic lawns overlooking the incredible Neuse River at one of its widest points, for your wedding, your reception, or both. But please read on…
Your guests will need lodging and, if they choose to stay in one of our 14 rooms, then you are only responsible  for any rooms that are not booked. We take care of the bookings for you and you don't incur any other charge except for a refundable $300 security deposit. Your perfect storybook waterfront wedding/reception is absolutely free and your family and friends are right at hand to join you in celebrating your special day!
River Neuse Suites is proud to offer this exciting concept which is the only one of its kind in the area. Now a waterfront wedding/reception is easily affordable! Please call us for details or stop by to see our incredible view and lovely rooms.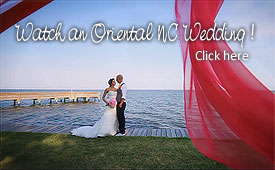 Call Stu at 252-249-1404
E-mail: [email protected]
Google Map
P.S.
People love us! Read the reviews on our Google Places page.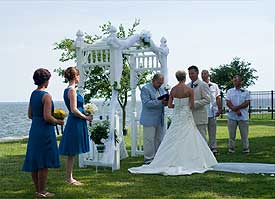 The Hamm-Johnson wedding (left) was held in Oriental's Lou-Mac Park, just around the corner from River Neuse Suites. The reception was hosted on the grounds at River Neuse Suites,
where the wedding party and guests stayed.
Photo courtesy of Karrie Drake Photography.
The McDaniel-Stratton wedding was also held in Lou- Mac Park on the riverfront in Oriental. The reception was held on the grounds of River Neuse Suites.
Photo courtesy of Christi Ann Photography.