Fishing the Neuse River
River Neuse Suites from Drift Media Productions on Vimeo.
One of the things that makes Oriental so special is that it offers quality year-round fishing. No matter the season, you will get hooked fishing the Neuse River! From New Bern down to the Crystal Coast, the creeks, river shoreline, and bays of the Neuse offer a type of fishing that is sure to challenge and excite anyone from the beginner to the pros. If saltwater fishing is your game, you can catch: speckled trout, red drum, rockfish, flounder, cobia, bluefish, spanish mackerel, and albacore. If you prefer freshwater angling, largemouth bass, crappie, bluegill, white bass, and yellow perch are plentiful.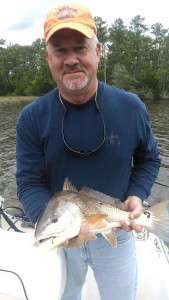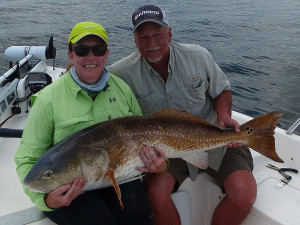 The season starts back in the creeks in the late fall and continues there through mid-spring. Then, the fish move out to the river shores and down to the bays bordering Pamlico Sound.
From mid-summer until mid-fall our world-class old drum season kicks into high gear. On any given day, you have the chance to hook up with a fish of a lifetime. It is not unusual to have a 50 lb bull red take you for a ride when they move into the river to spawn!!
Mark Davis of BigWater Adventures did an installment on fishing the Neuse River.  He and the crew stayed at River Neuse Suites, and he had some nice things to say about us. Click on Mark's photo to view the video.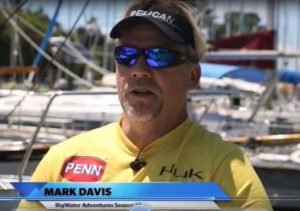 With such an expansive and diverse fishery, we have a stable of top flight charter captains that can give you a memorable day on the water. If you want to get in touch with them, click on one of the links below, and let them take you out on an adventure you will not soon forget!
Captain Gary Dubiel — Spec Fever Guide Service
Captain Mitch Blake — Fish IBX
Captain George Beckwith — Down East Guide Services
Captain Dave Stewart — Knee Deep Custom Charters
Captain Ashley King — Keep Castin' Charters
Captain Bobby Brewer — Bald Head Bobby Guide Service
If you need to get geared up, we have two tackle shops that can take care of all of your fishing needs. Click on one of the links below to find all of the gear that will get you bit!!
Captain Dave Stewart — Minnesott Beach Bait n Tackle
Todd Willis — Neuse River Bait n Tackle
Let River Neuse Suites be you fishing headquarters! We have a large front yard with plug-ins so you can park your boat and charge up easily, all the ice you need for your coolers, and great rooms where you can get a hot shower and a good night's sleep.