Fun in the Summer Sun
It's an early July morning on the Neuse River in Oriental, and the air is thick and still. The sun has not even winked over the horizon yet and we are at the boat launch preparing to scoot across the river. The sea breeze hasn't kicked in yet, and there is a spot on the bank that has been full of fish. As we slide across the water, school after school of menhaden, mullet, and bluefish scatter in our wake. Our captain for the day cuts the engines early, noticing some serious activity in a nearby cove. He quietly drops the trolling motor, and we ease our way in, stealthily approaching our target of the day. The entire area is filled with life: small shrimp scattering around the shore grasses near the bank, and pod after pod of baitfish showering on the surface. Suddenly, a breach that sounds like someone took a bowling ball and tossed it in the water…then another…and another. The big boys are in!!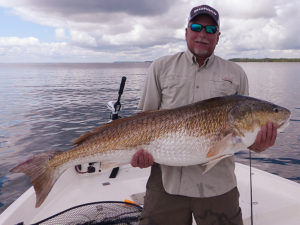 Excitedly, we jump up and grab our rods rigged with large popping corks and big soft plastics underneath and make our first cast. On the retrieve, we are thumping the corks, calling up the bull redfish with a concussive splash. We cast again and again, anxiously awaiting the strike. Then, out of nowhere, it happens! The reel starts screaming as an old drum has risen from the deep, mistaking the bait for a morsel of breakfast, and trying to make his escape.
The fish is making his first drag burning run, screaming 100 yards of line off the reel. I apply as much pressure as I can to stop the behemoth, and start gaining line as I have him turned to the boat. That pressure just makes the fish mad, and he is off again making me re-earn every inch of line I had just won. After several minutes of this back and forth battle, we get one of the prettiest copper and bronze fish I have ever seen gently guided into the net. Then a few quick pictures and he is back over the gunnel of the boat to be revived and released. Tired and still shaky from the adrenaline, I lean back to chug down a drink and relive every second of landing that trophy old drum. But there is no rest to be had yet, the big boys are still busting on top.