Busy Week in Oriental North Carolina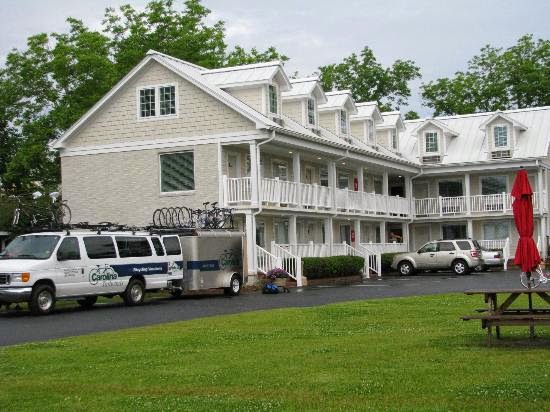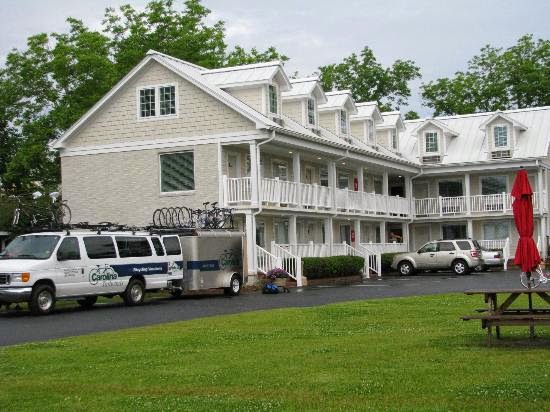 The Carolina Tailwinds Bicycle Tour Group will be pedaling into Oriental this Thursday as part of their much respected "Outer Banks Bicycle Tour."  That's their cool equipment van in the foreground of the photo.  We're glad to have you back again!  Tours occur throughout the year and are open to all levels of cyclists.  For more information, email info@carolinatailwinds.com.  There may still be openings for their Halloween Ride on October 31st.
And there's another big event happening: Oriental will play host for the World Sunfish Championships starting today and running through next weekend.  Sunfish racers from all over the globe will be here to vie for the championship.  The racing should be exciting and it takes place on the mighty Neuse River at Camp Seagull which is only moments away from downtown Oriental.
The Oriental History Museum is hosting a "Jukebox Jam Street Dance" in the parking lot of the museum.  The street dance, which will be held October 11th from 4:00 to 7:00, was a regular function in Oriental "back in the day."  History buffs and residents alike are working together to bring back this regular fun event.
There's also a wedding in town – the Simpson/Baggett wedding takes place in beautiful Lou Mac Park with the reception here on the hotel lawn.  We wish you much happiness!
The Saturday Farmer's Market takes place as usual at the harbor.  There are crafts, gourmet coffees, home pastured meats, local honey, eggs, produce and baked goods.  We highly recommend the Biscotti from Kip's Kitchen!
And, if you're in the mood for eerie tales from the past – join Oriental's master teller of tales at the Dinghy Dock every Saturday through October at 8:30 for a haunting walk through the old town.  Hear about bloodthirsty pirates, murders and all the mysteries from the old days.  Tickets are $10.
As the song says – "nothing could be finer than to be in Carolina" (especially Oriental!) right now.  Lots to do, great weather and beautiful water views all around you.  Come on down!